Videos and slides from JailbreakCon 2014
We have posted videos on the JailbreakCon YouTube channel. Most of Sunday's talks are available in this video playlist, and most of Saturday's mini-talks are available in this video playlist. For slides and articles, see JailbreakCon on TheiPhoneWiki.
For updates, see @JailbreakCon on Twitter.
Introduction
JailbreakCon (WWJC) is the only event of its kind: where the iOS jailbreaking community gathers to meet each other in real life and talk about the iOS devices, jailbreak exploits, extensions (tweaks), and themes that we love.
Come join your favorite security researchers, software developers, theme artists, and hundreds of fellow jailbreakers from around the world — to learn new things, share what you know, ask questions, and hang out together. You can see jailbreaking friends who live far away, and you can even make new friends here.
When and where?
JailbreakCon is on Saturday and Sunday, April 12-13, 2014, at the South San Francisco Conference Center, 255 South Airport Boulevard, South San Francisco, CA.
Tickets are $30 for adults and $10 for people under 18, and they include lunch for both days. People of all ages are invited; especially if you're a younger jailbreaker, you're welcome to bring a parent or friend.
If you've purchased a ticket already and you're wondering what we'll check at the door, don't worry about bringing proof of your ticket; your name is on our list.
The conference center is next to San Francisco Airport; here's a link to Google Maps. If you're in the Bay Area, here are directions by public transportation (BART, CalTrain, SamTrams) and by car.
Schedule of talks and workshops
Saturday
9:30 am — Doors open
10:00 am — Conference introduction
10:30 am — Morning workshops (development for beginners; troubleshooting Cydia and jailbreaks; intermediate and advanced developer discussion)
12:30 pm — Lunch
1:30 pm — Introduction to mini-talks
1:40 pm — Mini-talks
3:00 pm — Questions and answers for mini-talks
3:30 pm — Afternoon workshops (introduction to theming; intermediate and advanced development techniques; improve wiki articles about jailbreaking)
5:30 pm — Done! Go get dinner together at local restaurants!
Evening — Conference center open for working on projects and hanging out together.
Sunday
Sunday's talks are at the heart of JailbreakCon, teaching and sharing what we know, with something interesting for attendees of all skill levels, from brand-new jailbreakers to experienced developers:
9:30 am — Doors open
10:00 am — Conference introduction
10:15 am — Joshua M. Tucker, "From idea to reality" — concept designer of elegant tweaks including CallBar, Reveal, Abstergo, and Emblem.
10:45 am — Steven De Franco (iH8sn0w), developer of a whole collection of useful tools for jailbreakers, including p0sixspwn, sn0wbreeze, and iFaith.
11:15 am — Break
11:30 am — Filippo Bigarella, "A tale of tweaking" — developer of sophisticated and useful tweaks such as Springtomize, Password Pilot, and CleverPin (website).
12:00 pm — Ryan Petrich, developer of literally dozens of amazing tweaks, from Activator to VideoPane and DisplayRecorder (website).
12:30 pm — Lunch
1:30 pm — Britta Gustafson — Cydia community manager; moderator of JailbreakQA and /r/jailbreak, editor of iPhoneDevWiki.
1:45 pm — Kevin Bradley (nitoTV), "Why isn't the Apple TV 3 jailbroken?" — one of the few and the great Apple TV hacking experts, and a member of Chronic Dev Team.
2:15 pm — Thientam Bach (Surenix), "A designer's perspective" — designer of popular themes including ayecon and ayeris (website).
3:00 pm — Break
3:15 pm — Cyril Cattiaux (pod2g), "The story behind jailbreaking" — extraordinary iOS hacker, who helped build evasi0n, evasi0n7, Absinthe, Absinthe 2.0, and several other jailbreaks.
4:00 pm — winocm, a talented and hardworking software developer with some unusual projects (website).
4:15 pm — Jay Freeman (saurik), "Jailbreaking education: Making academia work for you" — the developer of Cydia, Substrate, WinterBoard, and Cycript, and overall a jailbreaking community leader.
5:00 pm — Questions and answers
5:30 pm — Done! Feel free to stay and chat for a little while (until about 6:00 pm when the conference center closes).
Questions? Ask @JailbreakCon, email us, or check out this Reddit thread with answers.
Here are also some articles about the event: Jailbreak Community Members Explain Why They Wouldn't Miss It For The World (iDigitalTimes), Get your JailbreakCon 2014 tickets now (iDownloadBlog), Jailbreakers Will Make The Pilgrimage To JailbreakCon Yet Again Next Month (Cult of Mac), and Tickets are now on sale (iPhoneHacks).
Videos and notes from previous years
Curious what JailbreakCon is like? Check out the tons of archived videos, photos, and articles in the JailbreakCon link collection on TheiPhoneWiki.
A few selected articles about the experience of JailbreakCon:
New York 2013: CopyTrans wrote down what they learned from the speakers.
San Francisco 2012: iJailbreak posted notes on the talks, with photos, and iDownloadBlog told "the tale of my three days at the epicenter of the jailbreak community". Before the event, here was a video interview with the organizer.
London 2011: iDownloadBlog summarized the conference talks, and RedmondPie covered them too. Here's a video with interviews of people at the event.
Sponsors
Thank you to our sponsors, including these ones from previous years:
Join the sponsors
WWJC would not be possible without the help, support and guidance of our media partners. Our official sponsors are the right ambitious and ethical entities ensuring a long and successful future for WWJC. If you are interested in sponsoring this year's event, please email us.
The fine print
Our code of conduct: JailbreakCon is dedicated to having a safe and friendly conference for everyone, of any gender, age, sexual orientation, disability, physical appearance, body size, race, or religion. We do not tolerate harassment of conference participants, and anyone violating this rule may be expelled from the conference. We don't expect problems, but we want you to know that you should talk to the conference organizer (Craig), Britta, and/or Jay (saurik) if you encounter any problems, so that we can help. Thanks!
We'd love to hear from you and answer any questions you may have. JailbreakCon is led by Craig Fox.
Email: JailbreakCon@SaurikIT.com or use the form below.
Twitter: @JailbreakCon
Facebook: JailbreakCon
YouTube: JailbreakCon
Email form
Feel free to ask us anything about the event. Questions about travel logistics? Would you like to help in some way? Need accommodations for a disability? Let us know!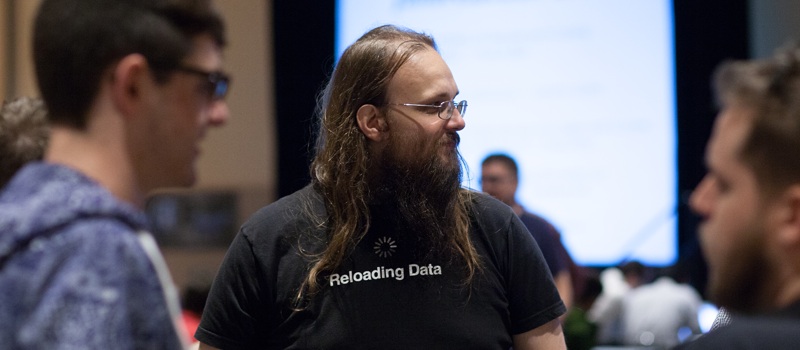 Jay Freeman (saurik) chatting with attendees about Cydia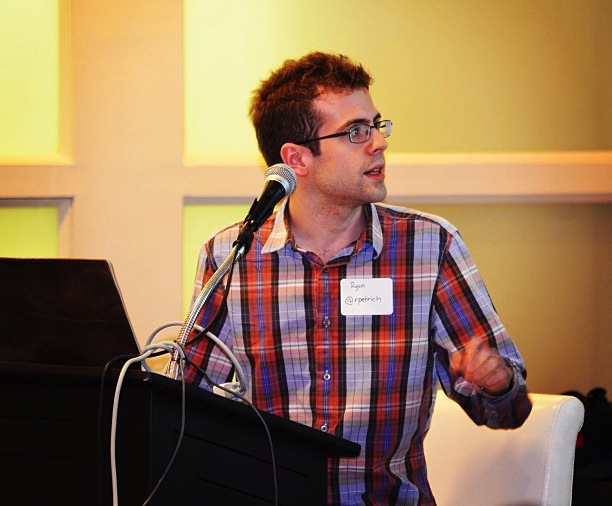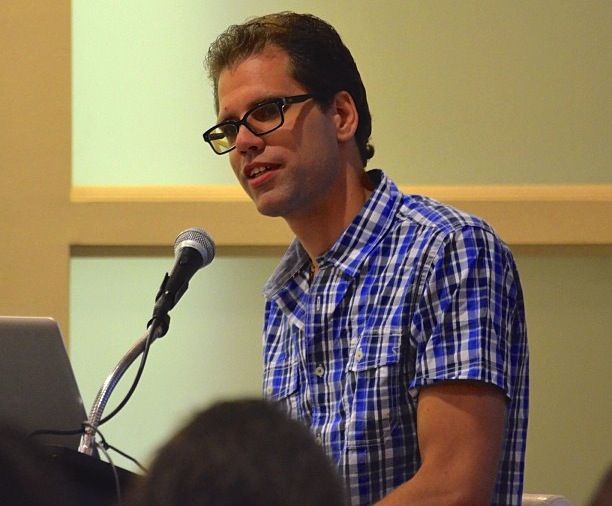 Ryan Petrich and Nikias Bassen (pimskeks) presenting
How much do people love it?
Tweets about JailbreakCon New York 2013:
"Really, @JailbreakCon makes you understand what being part of this community really means. It's amazing!" @FilippoBiga
"@JailbreakCon was awesome this year. Talking with and meeting everyone is an experience you can get nowhere else." @conradev
"To all at @JailbreakCon: soak it up! Learn, teach, build relationships. It was one of the best times of my life." @JoshMTucker
"incredible incredible incredible day of meeting, talking, and working at #WWJC. wouldn't have traded it for anything." @insanj
"@rpetrich teaching #wwjc about integrating his tweaks! Super simple, very informative. pic.twitter.com/4jBHv5qvwD" @william_vab
"Met the legendary @saurik at #wwjc pic.twitter.com/xnnyvNSuTg" @twodayslate
"Good meeting @Surenix, @saurik, @rpetrich and @brittagus. I owe so much to these guys. Very humbling day at #WWJC" @J_W97
"Thank you guys, @JailbreakCon has been amazing, definitely worth an 8 hour flight! media.lucatnt.com/affcbacca.jpg" @LucaTNT
Aaron Ash (charybdis) and other developers hard at work
saurik's talk at JailbreakCon 2012
The scene at JailbreakCon 2011
Learning from pimskeks about how evasi0n works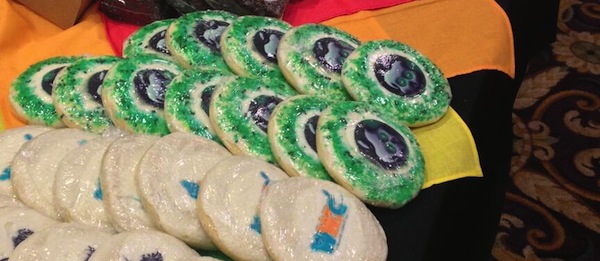 WWJC and Greenpois0n cookies by Shznakl in 2013
People talking to each other during a break
Steven De Franco (iH8sn0w) on stage
Speaker group photo, New York 2013